this week really has been outstanding and it just keeps getting better!!!
the ladies over at
Quilt Story
are featuring my blog post about my first quilt today - how cool is that?!?!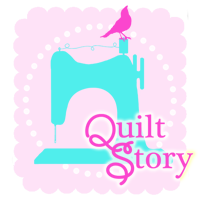 get on over there and check out their blog - it's really fantastic. all kinds of wonderful work by several different artists from across the globe. it's a great place for inspiration to get you going, advice you never knew you needed, and
eye candy galore!!
thanks so much for featuring me, heather & megan!
you gals rock!